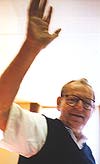 A couple of years ago, I invited Todd — whose parents had recently moved to North Carolina — to Thanksgiving at my parent's house in Binghamton. Now that's about a three hour drive south of here, and three hours is obviously too far to go without a Plate. So first thing that morning we made our way down to Main Street and Nick Tahou's. Nick was there and, as always, he had a couple of jokes to get off his chest. He probably told the 'goddamn greek' one, but I don't remember now. I do remember that we started talking about Thanksgiving, and how the whole Tahou clan was coming out to Nick's house that afternoon for dinner. And then, politely and almost awkwardly, he told us that if we didn't have any plans, we were welcome to join them.

I remember Todd and I staring at each other across the table with "y'wanna?" looks on our faces and visions of Turkey Plates dancing in our heads. In the end I declined though, only partly because I didn't want to blow off my family at Thanksgiving. "Thanksgiving at Nick's House" would have meant bragging rights among the hardcore Platers for the rest of my life, possibly longer, but it didn't feel right to take advantage of his hospitality that way (though Todd probably wishes I'd picked another year to invite him).

Nick passed away this past weekend. It was the headline story on the local news all weekend, there were Special Reports, the whole nine yards. I only knew Nick a few years. I never made it out to his house, I've only briefly met members of his family. Even among the "regulars" I don't count for much: there are people in that place who've been "regulars" since the 50's. But that's the point after all. Nick didn't know us all that well either, but he always took the time to sit down and talk a while. He always had a joke or a story, and if we came in with a girl, we always got "beauty and the beast". He took an interest, and you don't get a lot of that these days. Nick will be remembered for a lot of things, some good, some bad I'm sure, but I'll always remember that when I was away from my family, he invited me to join his. I wish I could have taken him up on it, if only to show how much I appreciated the offer. The restaurant, and Rochester itself, isn't the same without him.

Well, as Andy says, at least now we know there'll be plates in heaven. And speaking of plates...